In our commitment to your success, we are constantly testing, measuring and implementing key findings to optimize your performance for maximum conversion. That's why we're investing in a product-based commerce (PBC) initiative based on experimentation and trends in buyer behavior to enhance your audience's experience on eBay.
Help your buyers find their version of perfect more quickly and easily with this modernized, streamlined shopping experience. With PBC, you can empower your audience to compare products, find the best deals and make purchase decisions seamlessly.
In short, PBC applies artificial intelligence, augmented reality and distributed commerce to find patterns and trends across our data so that you can deliver highly personalized results and help shoppers find the things they really want.
PBC supports your continued optimization and success by:
Gearing results to buyers' expectations
Today's shoppers expect fast, accurate results that make it simple for them to find items that best suit their interests, timeline, and budget. With PBC, items are grouped so that you can meet their evolving needs and behaviors, and expedite purchase decisions.
Expanding and improving the eBay catalog for your campaign success
Increase your relevancy and earning efficiency with our product-based catalog, which is constantly evolving to better align your promotions with your buyers' needs and behaviors. As a critical component of PBC, we work closely with our sellers to refine the catalog to ensure the accuracy of how each listing relates to your audience's search.
Providing a new product-based page type you can link to for higher earnings
Boost your conversion rate by providing a custom experience to shoppers when linking to our Product pages. These pages are ideal for partners who want to provide their audience with better products and competitive prices at a quicker rate. Product pages group together verified items connected to the same eBay catalog product that best matches what the user is searching for.
Here is an example of a product-based page: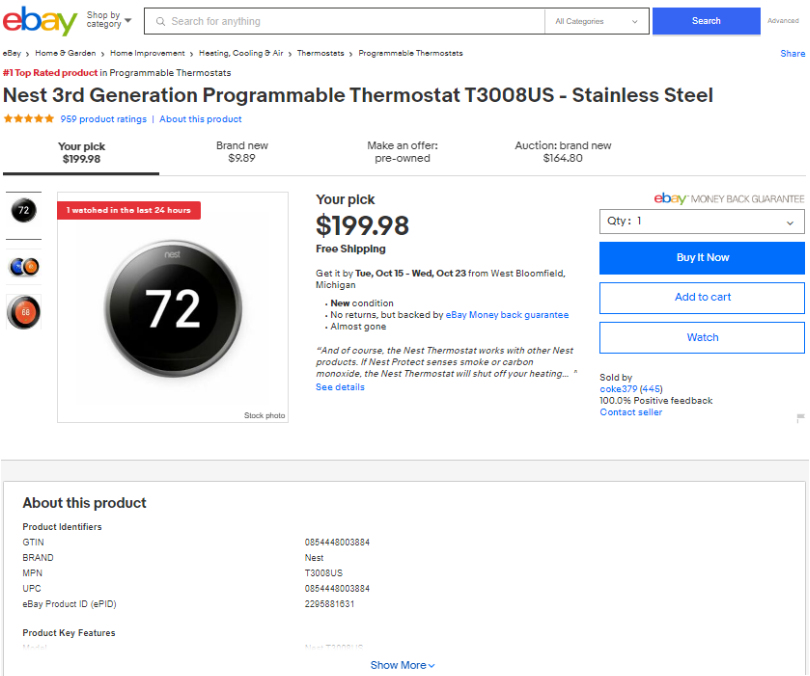 Read more in the Product-Based Shopping Experience Playbook.
Harnessing the power of images to show, not tell
Today's shoppers often comparison shop by taking a photo of a product in a store or grabbing a screenshot, and then using it to search on eBay.
Catering conversions with personalization at the user level
With Interests, we continue to personalize shopping on eBay. Interests tailors the shopping experience to an individual's passions, hobbies and style. For partners, this means that the traffic you drive to our platform will be greeted with a more customized experience -- accelerating your earnings by delivering more of the products that they love to buy.